ProfitPaths®
We create and grow measurable, scalable, and predictable revenue streams using content and digital communication for brands all over North America.
Explore More
ProfitPaths®
We create and grow measurable, scalable, and predictable revenue streams using content and digital communication for brands all over North America.
EXPLORE MORE
DOWNLOAD THE PLANNING SHEETS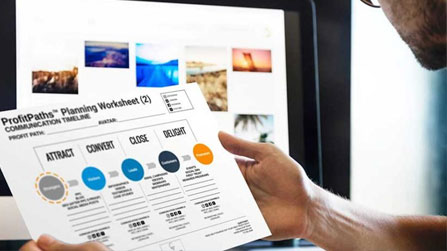 NICHE FOCUSED CAMPAIGNS
After breaking out all of your specific products and services, we create a list of your highest profit buyer personas (avatars). Content is designed that is helpful for these specific buyers and points them toward the product or services you're offering.
Trackable & Optimizable
No more throwing money around to see if it sticks. Every single click, phone call, and mouse movement is tracked for ROI. This helps us to split test colors, layouts, and so much more.
predictable & timely
Once a campaign is up and running, it will continue, in most markets to indefinitely generate leads. Many profit paths can even be turned on and off based on your schedule.
Know Your ROI
Phil Knight, the founder of Nike, in his early years, challenged an ad executive by saying, "Can you definitively tell me that these ads drove sales of shoes?" The answer was, "no." 
In today's marketing climate, the answer is now, "yes." We create amazing dashboards that show every click, lead, phone call, etc.
ProfitPaths will change the way you see your website, your marketing, and your team. 
+ Years of Rev Generation
ProfitPaths® Discover & Captivate Your Perfect Next Customers Through Strategic Content & Communication.
After determining the product or services you want to promote, and selecting an avatar in which to promote them, we create amazing content that is highly helpful, interesting, or entertaining to that audience.
Then, using proprietary resources, we discover where your avatar is spending time online. It could be social media, search engines, or reading their favorite news or hobby websites.
The journey begins when we share this great content with your avatar and they begin to explore. As they see more and more content from your brand, it increases trust and moves them down the ProfitPath®.
Finally Align Business Goals With Trackable & Measurable Digital Efforts.
C-Level executives don't care about Facebook likes, video views or how may shares your last LinkedIn post received. They care about things you can deposit in the bank.
With ProfitPaths, you'll finally be able to build campaigns that track and measure everything from phone calls, leads, emails, and so much more to specific events. This leads to being able to understand your customers lifetime value and actually attribute it back to a source – or many sources, in some cases.
From the point where a customer discovers your brand or your product for the first time to the point at which they purchase from you for the fifth time and send some referrals – you'll know exactly how to track and report your ROI back to the power that be in your organization.
My team and I spent a few days analyzing ProfitPath opportunities for our company with the Conklin Media team and the experience was incredible. I highly recommend this team. They've been a great resource for us and continue to be.
These guys are the real deal. We launched a ProfitPath and site sales quadrupled within 6 weeks. We were so happy, we are now working with their team on multiple projects.
We worked with Conklin Media to create a ProfitPath and they handled everything from start to finish. We now have a stream of leads (more than 200 in a few months) that we weren't getting prior.
Amazing relationships don't start with marriage. Let's get to know each other, make sure we're a great fit and that success is imminent.
We've created a step by step quiz to see if a profit path is for you. Share some keywords and competitors and we'll work the magic.
Still not sure what this ProfitPath thing is? We are here to help. Learn more through our videos and testimonials.